Thursday, May 9, 2019 Cocktail Hour
Date:
Thursday, May 9, 2019
Location:
Lancaster Country Club
Speaker:
G. Terry Madonna, Franklin & Marshall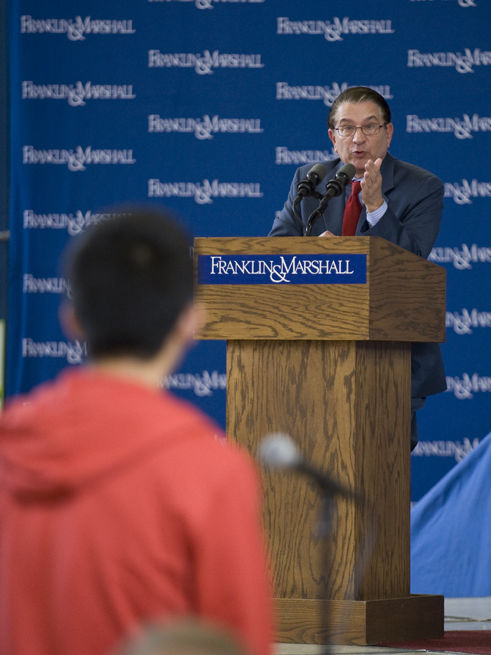 ​
Biography

​
At Franklin and Marshall College, Dr. Madonna is Director of the Center for Politics and Public Affairs, Professor of Public Affairs, and Director of the Franklin and Marshall College Poll. He joined F&M in May, 2004.
For more than 30 years, Madonna has taught and written about his two academic specialties: the American presidency, and American political parties and political behavior. As a pollster in recent years, he has written extensively about voters and voting behavior. He holds a Ph.D. in political history from the University of Delaware.
Before joining the faculty at Franklin and Marshall, Dr. Madonna was Professor and Chair of the Government Department and headed the Center for Politics and Public Affairs at Millersville University.
Director and Adjunct Professor, University of Pennsylvania's Harrisburg-based evening division, Master of Governmental Administration Program, 1980-1986. Master's Degree granted originally by Wharton School and then the School of Public and Urban Policy: administered evening division graduate program of approximately 125 graduate students pursuing advanced degrees in government.
Madonna founded the Keystone Poll in 1992, the oldest survey produced exclusively in Pennsylvania. In 2008, the Keystone Poll was renamed the Franklin and Marshall College Poll. In this capacity, he is the pollster for the Philadelphia Daily News, Times-Shamrock Newspapers, WPVI-ABC6 (Philadelphia), WGAL-TV (Lancaster), Harrisburg Patriot News/Pennlive, LNP, The Pittsburgh Tribune Review, WTAE-TV (Pittsburgh), and The Reading Eagle - media partners for the poll. He has also polled for KYW-TV (Philadelphia), Fox, 29-TV (Philadelphia), CN8-The Comcast Network, WITF-TV (Harrisburg).
In 2008, Franklin and Marshall College began a partnership with Hearst TV to conduct national polls. Hearst owns 26 television stations, manages two others, and owns two radio stations. Madonna directs the poll.
He is also the host of Pennsylvania Newsmakers, a weekly statewide news and commentary program. He writes (with Michael Young) a bi-weekly political commentary column, "Politically Uncorrected," originally for Capitolwire.com and later for Politicspa.com, the state's leading political website. The column appears in many state and national newspapers and also appears frequently on two national websites: stateline.org and realclearpolitics.com.
He is a regular analyst for WGAL-TV (Lancaster/Harrisburg). Madonna is a regular panelist on WPVI's-TV (Philadelphia) commentary program, Inside Story. He is a frequent guest on many talk radio programs throughout the state and nation. He has also provided election coverage for WHYY-TV, public television in Philadelphia, WPVI-TV (Philadelphia), and WITF-TV. Madonna was also a regular panelist on The Peoples' Business, a weekly news and commentary show broadcast throughout Pennsylvania on public television during the 1990's.
A frequent political analyst and public affair's commentator, Madonna has also provided analysis to the New York Times, the Washington Post, the Los Angeles Times, the Wall Street Journal, U.S.A.Today, Philadelphia Inquirer, Philadelphia Daily News, the Pittsburgh Tribune Review, the Christian Science Monitor, National Public Radio, CNN, ABC News and CBS News, to name a few. Madonna has appeared on CNN's Inside Politics, CBS News, ABC News, C-Span, Fox News, MSNBC and NBC News. He has also contributed to political web sites for MSNBC, the Hill Newspaper, Real Clear Politics, Stateline, and Fox News.
The author of numerous publications in the fields of American history, American government, and American politics, Madonna has written Revolutionary Lancaster: The Leadership (1976); Reapportionment: A Primer for Pennsylvanians (1993); Merit Selection of Appellate Judges: Why Its Time Has Come (1994); Pennsylvania Votes, 1994, (1995) (with Berwood Yost); and Pennsylvania Votes: Presidential Primaries, 1972-1992: A Sourcebook (1996) (with Berwood Yost); Pivotal Pennsylvania: Presidential Politics from FDR to the Twenty-First Century (2008); Political Pennsylvania: The New Century (2014) with Michael Young) as well as chapters in books and articles in specialized publications. His writings have appeared in the Pennsylvania Magazine of History and Biography, The Polling Report, Presidential Studies Quarterly, Pennsylvania History, Intellect, Academe, The Journal of Practical Politics, and the Fox News and The Hill Newspaper, as well as in many other places.
Madonna delivered the Jefferson Educational Society lecture in 2014. In 2012, Madonna delivered the annual Edmund Notebaert Lecture at the Children's Hospital of Philadelphia. In 2010, he delivered one of the Jefferson Global Initiative lectures. In 2008, he delivered the annual Chautauqua Lecture at Gannon University, entitled "The Road to the White House." In 2007, he delivered two major lectures; the annual James Buchanan Foundation lecture, entitled "From Buchanan to Bush: Campaign Practices Then and Now," and the annual Dwight D. Eisenhower Society Lecture, entitled, "The Political Skills and Leadership of Dwight D. Eisenhower." In 2006, he gave the Neaman Foundation lecture. In 1992 at the annual meeting of the Pennsylvania Historical and Museum Commission, he gave the lecture, "Thaddeus Stevens: How He Would Have Viewed Contemporary American Politics."
Madonna has served on numerous governmental boards and commissions: including former Governor Edward Rendell's Higher Education Advisory Board, the Benjamin Franklin Partnership Board (appointed by former Governor Dick Thornburgh), and the Board of Embreeville State Hospital (appointed by former Governor Milton Shapp). He served in the early 1970's as a Lancaster County Commissioner. He served on the Education Policy and Leadership Center board from 2002 to 2013.
At the request of foreign embassies and the U.S. State Department, Madonna has appeared in seminars and discussions with diplomats and newspaper reporters from around the world.
In addition, Madonna has moderated gubernatorial, congressional, state legislative and school board forums, and debates for various organizations.
Dr. Madonna has received numerous awards and honors. He is the recipient of a Distinguished Professor award by the Pennsylvania Department of Education, the President's Medallion at Millersville University, and a special commendation for scholarship and leadership from the Board of Governors of the State System of Higher Education.
Additionally, he has been named an "Outstanding Speaker of the Year" by the Speech Communication Society of Pennsylvania, has served as a Commonwealth Speaker by the Pennsylvania Humanities Council, and was given the Daniel Roselle Award by the Middle States Council for the Social Studies.